Add Group Video Chat to OBS
The Group Chat is EXPERIMENTAL and likely unstable.
Please report issues to [email protected]
Room Name:

Anyone can enter a room if they know the name, so keep it unique
Having more than four (4) people in a room is not advisable due to performance reasons.
There are numerous known issues. Please report feedback.
With a room name entered, enter the room as a director. Links to invite guests will be provided.
Add your Camera to OBS
Select the audio/video source below and when you're ready just click START SHARING WEBCAM
Video source:
Audio source:
Remote Screenshare into OBS
note: Do not forget to click "Share audio" in Chrome.
(Firefox does not support audio sharing.)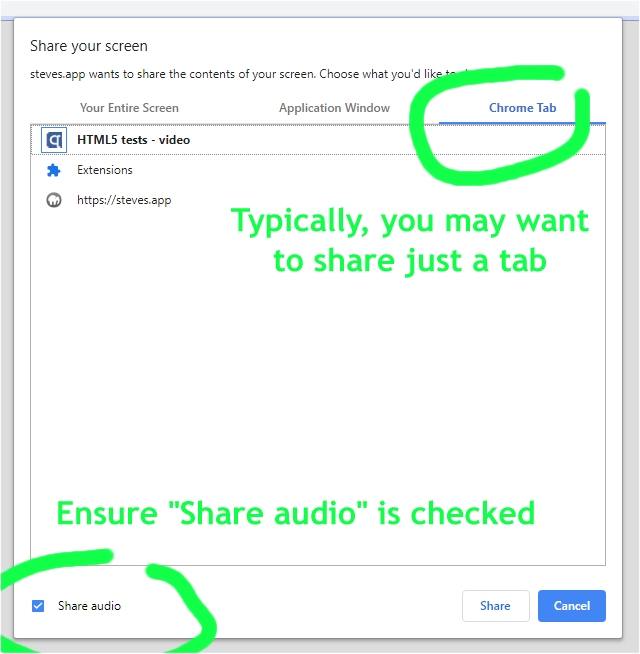 What is OBS.Ninja
100% free; no downloads; no personal data collection; no sign-in
Bring video from your smartphone, laptop, computer, or from your friends directly into your OBS video stream
We use cutting edge Peer-to-Peer forwarding technology that offers privacy and ultra-low latency
Youtube video Demoing it here
Code is open-sourced: https://github.com/steveseguin/obsninja
You can also check out StageTEN.tv for a more feature-rich paid-solution
Known issues:
** MacOS users need to use OBS v23, along with either a local microphone or virtual audio cable.
** The rear camera on some smartphones have issues. Please report these issues, including your phone's model.
** For some users the video fails to load into OBS; this is often caused by a network firewall.
April 7th, 2020: Site updated. The previous version can be found at https://obs.ninja/old/
Check out the sub-reddit for help and advanced info. Or email me [email protected]